2009 FIA Formula One World Championship
The 2009 Formula One season will be the 60th FIA Formula One World Championship season. There are a total of ten teams signed up to compete in the championship.
The season is scheduled to take place over 17 rounds, starting with the Australian Grand Prix on 29 March 2009 and ending on 1 November 2009 with the Abu Dhabi Grand Prix, which is included on the race calendar for the first time and will be held at the new Yas Marina Circuit. The French and Canadian Grands Prix, which were both included in the 2008 championship, have been dropped.
Several rule changes will be implemented by the FIA, in a bid to cut costs due to the global financial crisis and to improve the on-track spectacle. New rules governing tyres, aerodynamics and Kinetic Energy Recovery Systems, among others, are some of the biggest changes in the Formula One regulations for several decades. The FIA also declared a change in deciding the World Driver's Championship, with the driver winning the most races to be declared as the champion. In the previous 59 seasons, the driver with the most points was considered the champion.
2009 FIA Formula One World Championship Race Schedule
The Singapore GP, will be hosting for the consecutive time, a night race. Also, a new course in the 2009 takes the form of the first ever, end of season, Abu Dhabi GP.
Since the 1995 season, Grands Prix held at the Nürburgring have been titled something other than the "German Grand Prix" due to a dispute with the Hockenheimring over naming rights. With the issue still in dispute at the end of the 2008 season it was reported that either the Nürburgring or Valencia Street Circuit Grand Prix would change titles. The FIA calendar currently lists the Nürburgring race as the German Grand Prix, and the Valencia race as the European Grand Prix.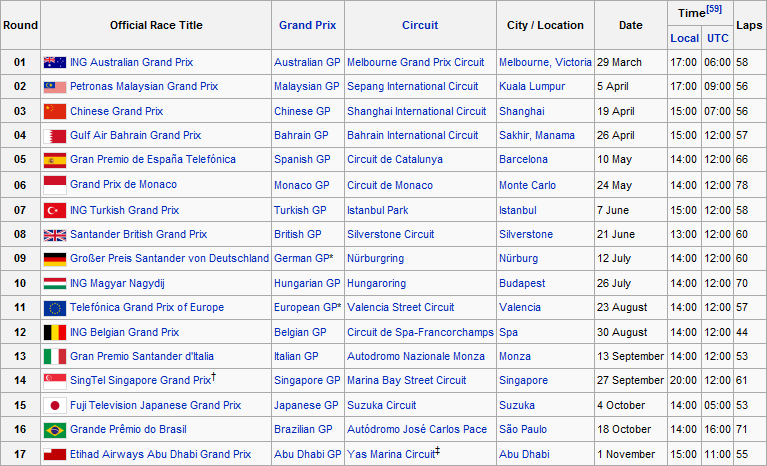 2009 FIA Formula One World Championship Race Teams & Drivers